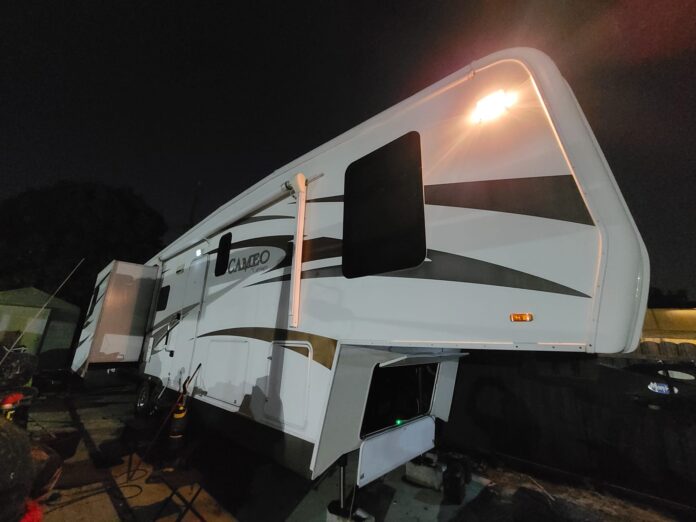 A fully equipped 34-foot 2010 CAMEO Carriage RV is for sale, perfect for those looking to set up a farm area on land without access to traditional power sources. In excellent condition, this RV comes with furniture, a kitchen, a bathroom, and a large bedroom. We can help you install a solar power system, allowing you to live off-grid. With our experience in RV installations across Florida, we recommend the best way to make a significant investment.
The 2010 Cameo 34SB3 by Carriage this RV is a luxury and quality-built fifth wheel.
The living area includes a wide-screen TV, dual recliners, a convertible couch, and a desk. The kitchen has plenty of storage space, a pantry, Corian countertops, a double basin sink, a large fridge/freezer, a three-burner stove, an oven, and a microwave.
The main bedroom includes a queen bed, a full closet, a second closet, and a third closet with washer/dryer hookups and louvered doors. Tons of storage for a full-time living! Exterior features include recent tires, disc brakes, a leveling system, and a slide tray pull-out for storage.
All systems are in working order with no known issues, and the RV has a smoke-free and pet-free history. Though the decals show some cracking and fading, this is to be expected with a unit of this age. The RV weighs 11680 lbs and has a water capacity of 84 gallons. Contact us today to schedule a visit and learn more about this fantastic off-grid living opportunity!
Please note that the RV is sold as-is, as shown in the attached photographs, which provide a detailed view of its current condition. If you want to purchase the RV, you can schedule a visit. The RV is located in a central area of Miami, making it easy to travel to nearby areas such as Homestead, Florida.
The note added that the general characteristics had been taken from a manual of a similar model and that any changes could only be ascertained by visual inspection or with the aid of the enclosed photographs.
Business hours Monday to Saturday 8:00 am – 9:00 pm
Price: $24,900
Telefono +1 786-781-2196
email esolarone